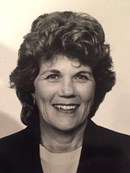 American Incorporators Ltd. is saddened to acknowledge the passing of our first ever full-time employee. Our founder Murray Sawyer hired Jackie Van Grofski in the mid-1980s, as the company he had recently established had grown beyond what his legal assistant could handle.
Registered Agents, Ltd. (as the current American Incorporators, Ltd. was then known) was an ancillary business attached to Murray's law firm. Founded in 1979, it was designed to offer a second, modest revenue stream in the incorporation and company formation business to help support the young lawyer and his family.
Five years later, and after finding herself a single mom, Jackie entered the work force with us for the first time. Although she had graduated Phi Beta Kappa from the University of Delaware with a degree in Economics she had spent the next twenty years simply raising her children. She and her close friend Murray took a leap of faith together, hoping to push both the company's fortunes and her work career forward.
The timing was perfect. Jackie proved herself a natural fit as the person to take our company to the next level. Under Jackie's leadership Registered Agents expanded its incorporation offerings and stepped up its marketing efforts enabling it to reach a national and international audience for the first time. She was instrumental in creating the foundation for the company that we have become today. We will be forever indebted to her and proud to have played a small role in launching her career into the work force over three decades ago.
As you can see from the attached obituary Jackie's accomplishments are impressive – insurance owner and executive, economics professor, community leader and business activist. She will be greatly missed by all who knew her. Our thoughts are with her family during this time.
https://www.legacy.com/obituaries/dailylocal/obituary.aspx?n=jacqueline-harding-vangrofski&pid=194546175&fhid=230
.